Automatic ticketing of urban rail transit is a window to provide services for the society and an information source for operating income accounting. The main purpose of the system construction is as follows:To solve the automatic ticketing, ticket checking, provide more flexible charging methods and ticket management means of a number of operators network operation, the performance of the network ticket management, revenue management and other functions, so that the enterprise operation in the cost, quality, service and other aspects have been greatly improved.
Yuhang YH6248GST4-SFP and YH6416BGS-SFP managed industrial switch are used in the rail transit automatic ticket selling and checking system solution. Station terminal system: the station terminal system equipment is connected with YH6416BGS-SFP series network management type industrial ethernet switch respectively and then forms a redundant loop network with the core switches.
Station computer system: YH6248GST4-SFP is used to connect each device in the system and then cascade it with the core switch.Line center computer system: adopting two industrial Ethernet switches will save storage server, master the communication server with a redundant ring network structure of the Internet Using three YH6248GST4-SFP L3 gigabit Ethernet switches respectively to fit the maintenance center/training and die system and the maintenance work area three system equipment cascade ring online to the station,To communicate with the center of the line.
Topology diagram:Automated ticketing system of rail transit network for ticket sales to provide a more flexible way of charging.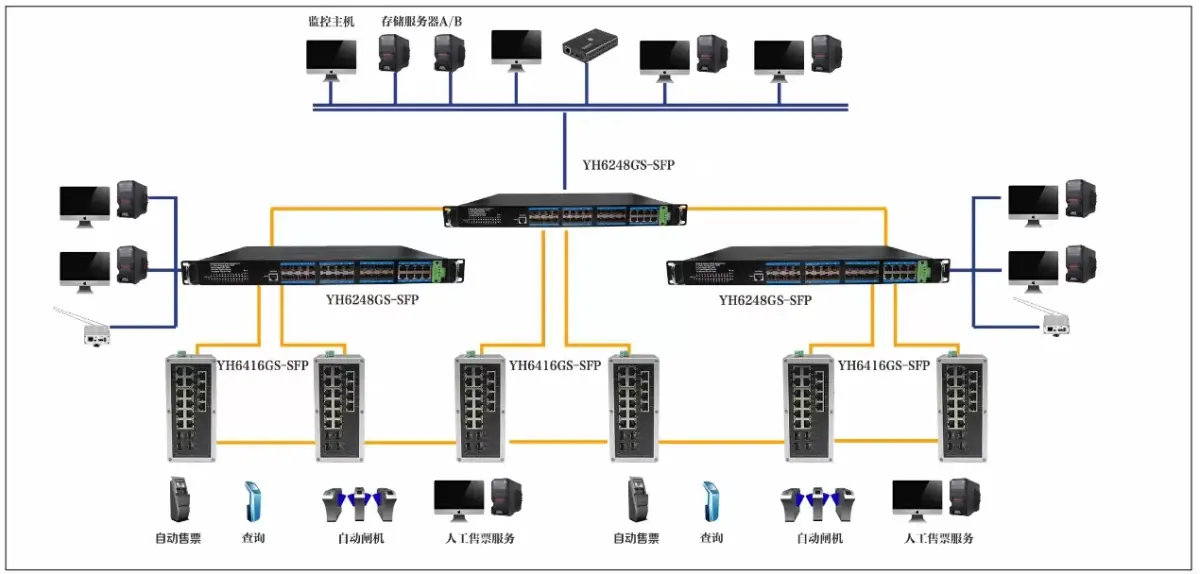 Product selection